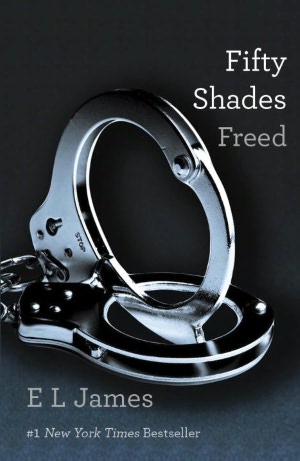 Fifty Shades Darker
ends with a mystery person spying on Christian and Ana at their new house that they will renovated.
Fifty Shades Freed
starts during their honeymoon and does weird flashbacks, so it is like honeymoon-wedding-honeymoon-earlier in the honeymoon-honeymoon...you get the idea. I was not a big fan of it and in general did not enjoy this book as much as the other ones. Anyway...immediately after they get home to Seattle after their honeymoon, they are being chased by a mystery woman for whatever reason. Ana manages to lose them, but it is soon discovered that the fire that occurred at GEH during their honeymoon was not an accident, but indeed arson. Who could be causing all these problems and why? Do they have anything to do with
Charlie Tango
going down? Most of this book is focused on Christian and Ana's relationship while it grows and normalizes after they are married. Other subplots occur (I will not ruin them by talking about them), but all in all, I felt like it was a weak book to end the series.